What's new
2016-01-11
No Parole EP, Urban Waste repress, and Vision reissue!
We're happy to report that we've been busy at MATW HQ, and have one new release, along with a repress of a sold-out release hot off the presses, and more releases in the works.

First off, there is the debut No Parole 7 inch which is out now. They are an oi! band from NJ, rough sounding but tuneful, and not unlike some of the old favorites, the Last Resort, 4 Skins, or maybe Combat 84, along with some of the newer faves like Rixe or Crown Court. The band features ex-Altered Boy Ray on guitar and veteran troublemaker Jesse Gasface on vocals. The record looks and sounds great, and we're happy to be a part of it.

There is also a repress of the Urban Waste 12 inch that's been sold out on our end for quite a few years now. Always a classic, so it deserves to stay in print.

The final bit of news for now is that we are ready to announce our next reissue project. We will be giving Vision's In the Blink of an Eye the old reissue treatment. From the looks of it now, it will include a booklet packed with old pictures, liner notes, and other archival goods. I will keep you posted on the progress, but expect this to be out by summer 2016.




2015-06-23
Sand in the Face reissue: out now!
The Sand in the Face reissue is officially out now. The pre-orders have shipped, and our distributors have been shipped the first batch of orders. Revolver, Ebullition, and Revelation should all have them in stock some time this week; stores should have them shortly thereafter. As far as other distros/ mailorders, the usual suspects should have them soon as well!


2015-05-25
Sand in the Face reissue: pre-orders up now!
We are just a few weeks out from the Sand in the Face reissue being out (all the printed parts are in, the tests were approved some weeks back), so we are putting the record up for pre-order. You can order now on our webstore and I will get these shipped as soon as they come in (which should be by mid June).

2015-04-23
Sand in the Face reissue: almost out!
Here's a quick update on the Sand in the Face reissue: all the printed components (covers and inserts) are in and they look great. (Bleeding Edges did a great job with the layout.) We got the test presses in and they sound great to us. Once we get the go-ahead from the band, we'll approve and the records will be in production. Now that Record Store Day madness is over, hopefully pressing them won't take too long. When we have a better idea as to how long the pressing will take, I'll put these guys up for pre-order! In the meantime, here's a few tracks from the record over at our bandcamp page.


In other news, we've got a whole mess of cool reissue wax in the webstore from the Italian label Radiation Records, from the likes of Blitz, Rattus, Sado-Nation, the 4 Skins, Disorder, Chaos UK, and more. Head over there to check it out.


2015-03-18
the Vaporizors demo
So the Sand in the Face reissue is making its way through its respective plants. Waiting for the tests as we speak, though the printed parts are close to being done. With any luck we will see a May release date on this one. We will also be announcing some other exciting reissue news in about a month, so stay tuned for that. Hint: it also involves a NJHC band.
The other bit of news is that I (Dan) am playing in a new band in Chicago, with some other funboys, called the Vaporizors. We recorded a demo, which you can listen to at bandcamp.

And if you feel like downloading, you can get the mp3 version here, and the wav version here.


2015-02-15
Sand in the Face!
The Token Entry LP reissue is now out and should be stocked with all the usual suspects. Be sure to pick it up from them or from us. We do still have some colored wax if you want!
We're happy to announce our next release. It will be a reissue of the very earliest Sand in the Face recordings. You might know Sand in the Face as one of the very earliest NJ hardcore bands, who played alongside the likes of AOD and Bedlam. They had a sole LP which came out in 1986, though it was evidently recorded some years earlier. The recordings that comprise this MATW reissue are the very first demos for the band, recorded at Mix-O-Lydian Studios (where the Misfits recorded Walk Among Us) with a line up that predates the LP line up, and includes a young Peter Aaron (later of Cincinnati hardcore band Sluggo, and later of the Chrome Cranks) on bass. It'll be a one time pressing of 600 copies with extensive liner notes by Peter Aaron. All the components have been sent to the printers and the pressing plant, and with a little bit of luck, we'll see a spring release of this. Check back in for updates.
We've also updated the webstore with some more items. Among them are the likes of LPs by Give, Hoax, and Failures (pictured below). We've got a nice legit reissue of Agnostic Front's Cause For Alarm, and a whole mess of other stuff. Check the webstore.


2014-11-29
MATW webstore update
Got a couple things going into the website, including some more copies of the now out of print Warthog and Goosebumps 7" from Katorga Works, the KW Altered Boys 7", some 7"s by Violent Reaction, Foreseen, and Brain Slug, along with some tapes (the Crown Court demo is great, btw).
Check back shortly for a big update. I've got some packages coming in from Havoc, Katorga Works, Sorry State, and Grave Mistake, and some more on the horizon after that.
2014-11-19
TOKEN ENTRY reissue out shortly!
The Token Entry- From Beneath the Streets LP reissue we've been working on is almost out. The records came in and we're in the process of packing up orders. Expect them to be in stock at distributors and stores by early December. Mailorder customers will hopefully get them sooner. Of course, it just wouldn't be a vinyl release without something going wrong. There was a bit of a mishap with the pressing. We were supposed to get 200 copies on clear, and 100 copies on opaque lavender/ purple. (The regular pressing is on randomly mixed vinyl, so they're all kind of a reddish/ purplish marble.) Well, the lavender records didn't come in. The pressing plant is on it, and we should have these soon, but I don't have an ETA soon. If you pre-ordered one of these, expect to hear from me in the next few days about how you want to proceed. (Likewise, if you place an order before I get them in, I'll hit you up about it as well.) In the meantime, here's what the clear and the regular pressing look like. Came out nice.

2014-09-22
TOKEN ENTRY!
We're very happy to announce that our reissue of Token Entry's classic From Beneath the Streets LP is due out within the next month. For some reason, seeing this project through to completion took us years, but we're happy that it's almost out. All the printed materials are done and the tests sound great, so barring any bad luck, we expect these to ship by the end of October. We'll open up pre-orders in about a week or so. Check back if you want to get in on some colored vinyl action. There will be a an opaque purple wax version limited to 100 copies and a clear version limited to 200. The regular first press will be on randomly mixed colors.
If you are looking at this website, chances are quite high that you know Token Entry quite well. In the event that you don't, or in the event that you just want a quick listen for old times sake, check out the following link.

Other than that, the Pagan Rituals and Altered Boys 7"s are both still fresh. We are down to our last batch of that Altered Boys 7", after which it will be sold out.
2014 has already been a busier year for us in terms of releases than the previous last few years, and we're happy to be back in the swing of things. We're already working on another batch of records, which we'll announce as soon as more details are in the bag.
2014-03-01
Pagan Rituals & Altered Boys
It's been a while since you've seen an update on this site, but here's one where we announce not one but two new releases. The first is the debut 7" by Pagan Rituals, a new band that's got ex-members of some of our late 90's/ early 00's NJ favorites Dead Nation/ Tear it Up/ Splitting Headache, now spread all over the US. Basically a project that reunites Matt, Dave and Frank (all of whom played on the great "Dead End" LP by Dead Nation) to play some dark and dirge-y early-deathrock influenced punk. Awesome record, we're happy to be putting it out and to be working with these old friends.

The second record is by a current crop of Jersey folks, Altered Boys, and one of the best bands we've heard from the area in a while. We dug their first two 7"s a bunch, on Katorga Works and Deranged respectively. Immediately on the heels of those records, AB released a very limited two song cassette on Bleeding Edges with awesome songs and bang up artwork. We convinced them to let us press it onto vinyl, and it looks and sounds great. This will be a one time pressing of 500 (150 of which are on opaque yellow vinyl), so get them quickly.


You can order both of these now from the store; they'll ship by the second week of March. All the P.R. stuff is done, and the AB tests have been approved. Just waiting for the records.
Two more things. First off, we're reissuing Token Entry's "From Beneath the Streets". If you know us, you know we've been talking about it for a while now, but it's finally happening. Expect that one around summer 2014, maybe sooner. More info to come.
Secondly, this popped up on the internets the other day courtesy of Stone Films and is cool. Dito of Major Conflict talking NYHC for a few minutes. Good shit.
2012-01-06
Represses & webstore updates!
It's been a while since this site's seen an update, so here goes: It's been a little quiet on the label front, but we have managed to get a couple of represses in. First of all, the Urban Waste 12" was finally repressed, this time with a free digital download for the release. Also noteworthy is that the labels now have some artwork by Spoiler Art rounding out the package. Omid from Battletorn also pressed 100 more copies of their last record "Reflect the Filth" which was initially limited to 500 copies. These last 100 copies, housed in the leftovers of the original RTF covers, are on purple-ish marbled vinyl and numbered out of 100. We got about 50 of them and they've been making the rounds. We're also now on Facebook so "like" the page to get updates that way.
We should have some bonafide new releases in 2012, but as usual, nothing I want to announce yet until it's more in the bag. In the meantime, do us a favor and buy some goods from our webstore. We recently updated our webstore with some great new goods by Double Negative, the Night Birds, Daylight Robbery, Wiccans, Rational Animals, our Montreal brethren Complications' monster of an LP, and some cool reissues by CIA (on More Than a Witness), Discharge (on Havoc), Kuro (!!!), and the Comes (!!!). The shopping cart shouldn't give you a hard time, but if it does, don't be shy and just hit us up and we'll be happy to set everything in order for you.
On Omegas' front, 2011 was a busy year. "Blasts of Lunacy" came out, first on Parts Unknown in North America, then on Hardware Records in Europe. My understanding is that the PU version is currently sold out of its second pressing, but will be re-pressed this month. We went on tour in the summer, making it out to the midwest, down to Texas for Chaos in Tejas, and then back up the east coast. The summer also saw the release of the City Limits comp on High Anxiety, which we have a track on alongside buds from Montreal and Toronto. Last month "NY Terminator" came out on Painkiller Records, which we've also got for sale in our webstore. We'll likely be keeping quiet for the good part of the spring, but in the meantime, check out our blog.
2010-05-20
Some shirts and some updates
So those pre-orders all went out for those Cheap Tragedies shirts. They came out looking right swell. We printed up just shy of 50 of them and from the looks of it, that's all we'll be doing, so once they're gone that's it. Head over to the webstore and pick one up. If you haven't gotten the "Volume 1: Souvenirs and Evidence" LP yet, you can now get a shirt and LP on clear wax together here at a cheaper price. We've been pretty good at keeping the clear copies for mailorder, so we've got a handful left still. We've still got plans to do a CD version of the album in the coming months so we'll keep you posted as that develops. Obviously nowadays CDs aren't exactly the most preferred format in the hardcore world, but we figure we'll still do some up for the folks that want it.
We promised to announce the next reissue, but the band is still compiling stuff and we're just confirming the last details, so we don't want to let the cat out of the bag yet for fear of jinxing anything. Hopefully it'll be soon though. Over the rest of the year we're going to put some effort into getting some of our sold out/ out of print records in press again since folks have been asking. We'll keep you posted.
Next some information that's only peripherally related to Mad at the World. The Omegas' Sonic Order 7" EP came out on High Anxiety 416 in the meantime. Since it's being distributed by No Idea Records, it shouldn't be that hard to find that one at your favorite local record peddler. The demo 7" that came out on Powered Records has been a lot harder to track down on these shores, but we should be getting copies of that not too long from now. Check back in a couple of weeks and hopefully we'll have it by then. The LP (still untitled) is now done except for some vocals, but should be done in about a week or two and we can get it off to the Parts Unknown people to press it up. We recorded some additional songs that'll appear on compilations on No Way Records and High Anxiety. As those materialize we'll put up more information. Omegas have some new shirts as well. Since folks have been asking about them, we made them available in the webstore.
Last but not least, we threw up some additional goods in the webstore. A few newer titles we just got in and even a couple of older things I found from the vaults. Check it out. As usual, if our shopping cart is acting silly with you, don't be shy about contacting us directly to make sure your order goes through smooth. 2010-02-10
So it's 2010 already...
Hey folks... it's been quite a while since there's been a update gracing the site. So it goes, we have our dry spells once in a while. Mostly from getting preoccupied with some other stuff. We've been busy over here, but unfortunately it hasn't been exactly reflected on the website. There's still a number of things we need to get added to the web page, so hopefully I'll be able to steal away in the coming weeks/ months and make some progress on that.
The occasion for this here particular update is that we're pressing up a limited number of Cheap Tragedies t-shirts. The LP's been out for about a year now, it's done quite well. We stayed true to our intention to keep the vast majority of clear vinyl copies for mailorder, so we actually have some copies of it left. Like all great disfunctional rock-n-roll/ punk/ hardcore/ what have you bands, Cheap Tragedies weren't able to keep it together all that long as they seem to have fallen into something of a permanent hiatus. Nonetheless, if it is the end, we're quite satisfied with their output: two great 7"s (on High Anxiety and on Livewire), and the monstrous Volume 1: Souvenirs and Evidence we were happy to be a part of. It's fitting we gotta do a shirt to commemorate this band. So, we'll be pressing up a limited amount of shirts with the following design:
Since a defiant Jane Fonda mugshot graced the cover of Volume 1, we figured it would be best to go with the mugshot theme and have a busted up Steve McQueen glare at you from the t-shirt. How limited will this be, exactly? Well, it's "limitedness" isn't really the intention, but let's just say we're pressing these up simply to sell at the webstore with likely very few shirts being distributed around. It'll likely be determined by exactly how many pre-orders we get, but I'm expecting we'll wind up printing only around 50. Yes, this is a pre-order, so if you order now, it'll ship around the end of March.
In other news, we have another record in the works: a NYHC reissue. I won't let the cat out of the bag just yet, but I will say this: with the series of NYHC reissues, it was always our intention to reissue some of the obvious classics (ie Urban Waste, Nihilistics) alongside some of the bands known mainly to die-hards. It's been a while since we were able to get out a good old NYHC reissue, so we're teaming up with our friends in Parts Unknown to do some more of these. Hopefully this will continue to be an ongoing thing. This first band will likely be familiar to you if you know some of the old Flipside comps. Need more info? Check back in a few weeks!
The Token Entry shirts will still be available, but we're selling out of the latest pressing. Some sizes are becoming unavailable for the time being, so hold your horses for a bit while we get them repressed.
Other plans: I was really impressed with a band from Montreal called the Castevets, and there was even talk of High Anxiety and MATW splitting a release with them.... but of course they went and broke up. So we'll see what happens next. In all likelihood, we'll repress some old titles with whatever duckets we can scrounge up.
In non-MATW news, the Omegas are finishing up the recording of their debut LP, which will see the light of day on Parts Unknown once we finish it. We recorded some songs for a 7" last May that High Anxiety is putting out, which is actually set to come out in a few short weeks. Finally.... check out Slobs.
I'll be getting some new records in the webstore in coming weeks, so do check back. Obviously, when you buy stuff there, it helps us out a bunch! As a matter of fact, we need to make some room for CDs. If you see 4 or more CDs that you want in the webstore, hit me up and you can have them for $8 each postpaid in the US/ CAN. (Outside the US and Canada, the postage will be slightly more, but we can work something out as well.)
And finally, another word on the webstore-- if the shopping cart ever gives you a hard time (especially with the shipping), just drop me a line directly and let me know what it is that you want, and I'll be more than happy to quote you a proper price and get you your records. (Speaking of which... the nice fellow who dropped a line asking abour 2 Token Entry shirts due to the aforementioned shopping cart problem, I lost your email, so do hit me up again!)
2009-05-29
Recent updates!!
So it's been a while since we had our last update, but we've been keeping busy. First off, it's come to my attention that some folks who've been trying to order stuff from our webstore in Europe have been unable to place the order because some nonsense the shopping cart's been doing. If this happens to you, please don't fret. Drop me a line at dan (at) NOSPAM matwrecords . com (it's obvious how you'll have to put this address into your email, right?) and let me know. Right now I don't know if it's an isolated thing that happened to a few people and works fine now or if this is a problem I should get checked out. Plus, we could still use your orders! We should have a larger webstore update soon though, as we've got a lot of new stuff come in in recent weeks.
In other news, the new Battletorn LP has been pressed and has shipped. Thanks to everyone who pre-ordered it. Aside from those, copies have been shipped ti our distributors and they seem to be going through them rather quickly. We're holding onto another 2 dozen for mailorder copies, so order it now if you were considering it, once those are gone, it'll be out of stock. Omid and William also just returned from another tour of the UK with the band Throats which went very well. We're trying to get 'em to come on up for a few shows in Canada this year still; we'll keep you posted how that goes. Other than that, a split 7" between Battletorn and Double Negative is supposed to be out shortly, if not already, on Volcom Entertainment, so be on the lookout for that. Unfortunately, this'll probably be the last recorded output from Battletorn as they're moving on, so I wrote a little tribute to being able to work with these fine fellas on the blog.
The Cheap Tragedies LP is doing well. I expect to have those start running out sometime this summer, and thereafter we'll start planning on doing the CD version of this as well. Still got some clear vinyl copies, if you want 'em. I hear they've been working on some new material which I expect will shred. Reviews have started popping up, most of which overwhelmingly positive. One notable exception was Maximumrocknroll, which quipped: "I love beer-soaked, high-energy bar punk, and I love snotty, witty, well thought-out lyrics, but while CHEAP TRAGEDIES attempt to offer all of these things, I just canÕt seem to like it." Go figure, genius.
Omegas are starting to record for an LP which should see the light of day on Parts Unknown Records once we figure out what the hell we're doing. In the meantime, you can still download our demo. We've got no more copies of the cassettes left to sell for the time being, sorry.
Also, you may take note that MATW releases are available on iTunes, eMusic, Napster, and all those other digital stores. The Coalition of Independent Music Stores have opened up their own platform for digitally selling music called "Think Indie" and might be worthwhile to check out in the event that you're interested in buying mp3s of our stuff, but prefer shopping at indie stores.... or whatever. Go here to check it out.
There's a few other things we have been working on that we'll be excited to announce. Once things continue to get worked out, we'll announce them. Cheers for now.
2009-02-17
Battletorn- Reflect the Filth 12" up for pre-order
So we're making steady progress on the Battletorn- Reflect the Filth 12". Or, should I say, Battletorn's axe-man and vocalist Omid is making steady progress. He's a pro at putting this type of stuff together, and pretty much spearheaded the production and manufacturing of the entire "Terminal Dawn" LP, so you know this'll turn out to be a good product. Acetates have been approved and test pressing approval is soon to follow so we're looking at a March release date on this puppy. To be on the safe side, let's say mid to late March. It's up for pre-order now in the webstore (showing up alongside a bunch of other stuff we've been getting in). This is a split release between us, and two newer labels that appear to be pretty righteous; Grrman Records (UK), and Challenge the Throne Records (US). Note that Grrman has started offering the record on pre-order as well, so UK folks might want to hit them up. As previously mentioned, we'll be getting 150 copies of the 500 that will be pressed, so expect this one to go quickly, since Terminal Dawn sold out in a heartbeat and we had most of the 500 copies of that one. While we're on about Reflect the Filth, you can listen to the title track of the record right here.
The Cheap Tragedies LPs have been flying out the door. In about a month and a half, we're rid of well over half the copies of the first press. A CD press is forthcoming, but we don't have an ETA on that one yet. Do yourself a favor and snag up one of those LPs, it's worth it. We still have some clear vinyl left, so pick it up. Once we start thinking about a second press, we might just forego the gatefold on that one to keep it a special thing for the first press only. In other CT news, I posted a little story pertaining to this project (the Volume 1... LP) on the blog. You can read part 1 right here. Part 2 will follow as soon as I can find some good pictures to go with it. The clevo-boys just played a show as well. Below you can find a clip.
Urban Waste is playing another show! This one is with Ultra Violence and Sexual Suicide at Southpaw in Brooklyn on Sunday March 22nd. This will be the first show for Urban Waste following the A7 reunion. Ultra Violence have been playing around again, including a reportedly killer recent show at Pass Out Records with Rapid Deployment Force and Sexual Suicide. Stay tuned.
2009-02-03
Token Entry reprint shirts delivery!
Many thanks to those folks who've been waiting patiently on the 5 week turn-around for the Token Entry shirt re-presses. They've been pressed, and we"re set to get them this week. They'll be turned around quickly, and the shipping date for all the orders is February 9th. Here"s a picture I've gotten of the finished product, complete with Ernie Parada (re)designed MATW logo on the sleeve. More Token Entry news on the horizon as well.
We're still making headway on this here site. Latest update is the Battletorn page, which you can find right here. More band pages on the way as time permits. If you've been reading regularly, you know we've got a new Battletorn record on the way, called "Reflect the Filth" which will have 8 or so new songs on side A, and a live set (clocking in at 15 minutes or so, it is also one of their longest) from the last show on the band"s Japanese tour. This will be the band's farewell record, as it seems like they won't be recording more here on out. 3 more songs desitined for a split 7" with Double Negative were also recorded at the sessions and will hopefully see the light of day as well on Volcom Entertainment. I hope to post an mp3 of one of the new tracks in the next week or so on the site. It'll go to pre-order some time in February (want to get these Token Entry shirts out first!), and likely the other 2 labels that are splitting the release, Challenge the Throne and Grrman Records will likely be taking pre-orders soon, too. This one will be a limited affair of only 500 copies. If the speed at which Terminal Dawn sold out on vinyl is any indication, you might want to hop on it soon. We'll only have 150 copies of this in total, so between pre-orders and a few distributor's orders, this one will be gone in a heartbeat. Don't miss out!
I promised that a select few stores would be getting clear vinyl of the Cheap Tragedies LPs. So far, you can swing down to Hits and Misses in Toronto, and Sound Central in Montreal. They should have them sometime this week! A few more stores have been planned, we just have to successfully coordinate with them, so check back for more information about this in the coming weeks. 2009-01-14
Cheap Tragedies LPs shipping
So it was more delayed than we had hoped for, but the wait is over and the final product is worth the wait: the Cheap Tragedies LPs are shipping once and for all! First to go out were the band copies and pre-orders, followed by distributors orders and so on and so forth. We'll be shipping these over the course of the next week or so. The gatefold and the clear vinyl look awesome. Have a look for yourself below and if direct yourself over to our webstore to snag a copy for yourself.
In other news, those Token Entry shirts we spoke of are now up for pre-order. The plan was to print up some shirts for the show Token Entry played with the Bouncing Souls and Vision a few weeks back, and sell the rest on our website. However, the shirts sold out at the show even before the band played. We were working on getting some more made with Ernie and Timmy. For this batch Ernie redesigned the "Positive Force" logo you'd see on the original shirts to say "Mad at the World."Through a few message board threads word got out and a lot of folks pre-ordered already. We'll be printing these up this week and getting them out to you soon's we get them back. Sit tight, they'll look sick. If you want one, go here and select yourself the appropriate size.
Lastly, if you ordered an Omegas demo and didn't get one yet, this is because I didn't have any left. We got some more made finally (which involved a trek out to Montreal's west island neighborhood (which is like having to go to Canarsie, if the L or the A trains didn't exist). So the tapes have now been packed up and are shipping to all you Omegas-starved individuals. Thanks for being patient.
More news to come. Stay tuned.
2008-12-22
End of 2008 update!
Good news: the Cheap Tragedies LP covers are shipping from the plant tomorrow. We should have them shortly, and will get all your pre-orders out to you. Thanks for waiting so patiently on your pre-orders, and moreover, thanks for the pre-orders! According to the band, they just played a "record release show" out in Cleveland, which raged. You'll likely find the footage popping up on youtube sooner or later. Below you'll find some footage of a show earlier this year of the band doing I am the Zodiac, which will open up the LP. We had some anxiety about having everything ready in time, and leaving the band in a lurch for a "record release show without records" scenario, so we had some extra test pressings made up, which the band was able to screen some covers for to sell last week. You can see those over at the blog. But the wait for the real thing will be over soon! To hold you over until the LP sits in your grubby paws, here's an additional track to give a listen to; a bit of a self-reflection on the part of mad man Mr Erba, appropriately titled "Ain't Dead Yet."
Powered Records in Belgium has put their Omegas demo 7" up for pre-order in their webstore, and it should ship soon. Additionally, we decided to make 100 more cassettes (bringing the total up to 200 tapes) which we'll have this week. We had no idea people would want to spend money on these things in as much as you can have it for free and all, but hey, we appreciate it. For you more fashion-conscious folks: if you are dying to have a t-shirt with the slogan "Slam Skank" emblazoned on it, I'll put them up on the MATW store as soon as I remember to get them from our practice space.
Despite a chorus of skeptics, the A7 reunion went amazingly well. Or so it seems. I for one was unable to go at the last minute (money/ time restrictions). However, word is a good number of the old-guard of NYHC absolutely killed it. Videos suggest our boys in Urban Waste were unfortunately drowning in stage potatoes, but stage dives from the balcony (balcony dives?) may have made up for this. The Abused apparently were so on point they left people with mouths agape. I was disappointed not to get to see Ultraviolence and Major Conflict. Sources say UV's Tony T-shirt gave a gripping performance. It was a monster event all-in-all, the coordination of which I would not have wanted to touch with a 10 foot pole. Wendy and Bryan did a great job, and our congratulations goes out to them.
Speaking of reunions, Token Entry is getting together for a special show with the Bouncing Souls and NJHC stalwarts Vision is Asbury Park NJ. Originally it was supposed to take place at the Stone Pony, but some kind of damage or renovations are rumored to be going down there, so the show is moved down the street at some sheltered spot on the board walk. You'll have to mosh harder to stay warm. Don't hurt the BS fans, kids! Ernie is doing double-duty at that show as his new band with other Arsons member Jason, called Higher Giant, is also playing that show. In the last update, we promised there would be some kind of spiffy Token Entry shirts available in conjunction with this show..... and there will be! Token Entry will have reprints of their classic logo shirt in black (as below) as well as on white at the show. They'll also pop up on the MATW webstore in the next few days as well for those of you not making it out to the show.
Other than that, have a happy new year, and see you in 2009!
2008-12-01
Battletorn update, Omegas in NY, A7 reunion
Much has happened in the month since we brought you the last update. First: Battletorn are back! Our favorite thrash duo will be returning with another EP, entitled "Reflect the Filth". It'll be an 8 song 12"EP which Omid and William will be recording for in December/ January at Colin Marston (Behold... the Arctopus)'s Thousand Caves Studios, and will be out in early '09 as a three way split between Mad at the World, Grrman Records (UK), and Challenge the Throne Records (CA). If you're thinking that 8 Battletorn songs will barely last one side of a 12", you are correct. Side B will include a live set recorded in Japan on Battletorn's last tour. Clocking in at around 15 minutes, it's the longest set they've played. We'll keep you posted on updates with this record. It will be limited to 500 copies again, and since it's a 3 way split, MATW will be getting 150 copies. Expect it so sell out immediately, so be quick! In other Battletorn news, they will be recording for a split 7" with the always awesome Double Negative to come out in March/ April '09 on Volcom Entertainment. Omid's also been working on a book documenting the past 5 years of Battletorn. They'll be playing their 5 year anniversary show on February 13th in Brooklyn.
The A7 reunion is only a week away and the line up is pretty phenomenal. Wendy and Bryan were able to snag the Abused, Urban Waste (with Kenny Ahrens from the 7" on vocals again!), No Thanks, Rapid Deployment, Mental Abuse (Davey Jones + some guests), Major Conflict, Virus, the Oppressed NY (pre-Betrayed), some out of towners (Jerry's Kids, Lost Generation, Psycho, etc), and some new blood (Sexual Suicide, Fed Up!, Government Warning, Waste Management). All in all, it promises to be a good time, regardless of what you think about "reunions." For a lot of these bands it will be your one and only time to catch them, so don't sleep!
Speaking of Urban Waste, John Dancy (drummer) found some old Urban Waste pictures he had in his collection. These pictures haven't seen the light of day for well over 20 years. It's a total trip to see that stuff, especially since most Urban Waste-related pictures and material was shrouded in mystery and obscurity for so long. Included in the pictures are song including original vocalist (and later Major Conflict singer) Billy Philips, some shots practicing, and some live shots at A7. Check them out at Urban Waste's myspace page, or over at the blog.
Omegas made it to NY for some shows in Albany and NY. Many thanks to the folks who made it happen. Some fellow recorded some footage of the show at the Cakeshop on Ludlow Street, which captures us doing a Psychos cover and then a few demo tracks. Speaking of the demo, the first 100 are all gone, but 100 more are going to be made. Belgian label Powered Records will be pressing the demo onto 7" format in a pressing limited to 300 copies. They'll also be doing a 7" for us, and it looks like we've got a longer record in the works for Parts Unknown, both of which will be recorded this cold, dark winter.
Other news: the Cheap Tragedies LP is almost out. There was a bit of a snag/ delay in the artwork, which Mr John Millin of Cheap Tragedies fielded gracefully to ensure that you can get your grubby paws on this disc soon. Other than that, look to the MATW site soon for some more t-shirts. We've got a new design for Urban Waste and also a Token Entry reprint on the horizon. More info to come. Aside from that: Token Entry reunion in December at the Stone Pony!
2008-11-01
Cheap Tragedies preorders, A Varning fest, and more!
How do you like this-- 3 updates over the course of a month! Something of a record for the MATW website, but we've been saying for a while we want to get this thing updated on a more regular fashion. Some of you who visited our webstore over the past 3 days might have taken note of some significant additions. The Cheap Tragedies LP is now up for pre-orders. Here's the plan: of the first pressing of this Cheap Tragedies LP, 700 copies will be available on black vinyl and 300 will be on clear vinyl, all pressed on 140 gram vinyl in reverse cardstock gatefold sleeves. Here's the clear vinyl pre-order and here's the black vinyl pre-order. Expect these at the end of November/ beginning of December. I'm not exaggerating (and it's not without a little bit of pride) that I can say this record blew me away and is easily one of my picks for the best hardcore record of the past few years. Folks who enjoyed the two 7"s (on Livewire Records and High Anxiety/ No Idea will NOT be disappointed as the crew from Cleveland really and truly outdid themselves. Consequently, we at MATW tried to oblige with some great packaging, which of course nowadays costs a pretty penny. Take note that our mailorders ship out of Canada for the time being and so our webstore, so you notice it when the webstore calculates your postage. Sorry! It'll be worth your while though. (If you need some preliminary convincing, check out "I am the Zodiac" at our myspace page. We'll post another song in the next few days if you're still a non-believer.) Maybe pick up some other stuff from our store to offset the postage costs a bit. BTW: word got out about the pre-orders before I promoted it at all-- if this is any indication as to how fast the clear vinyl will go, you had better act quick! Of the 300, the band will be around 50, a handful will go to some soon-to-be-disclosed stores at various stores throughout North America, and the rest will be for mailorder only.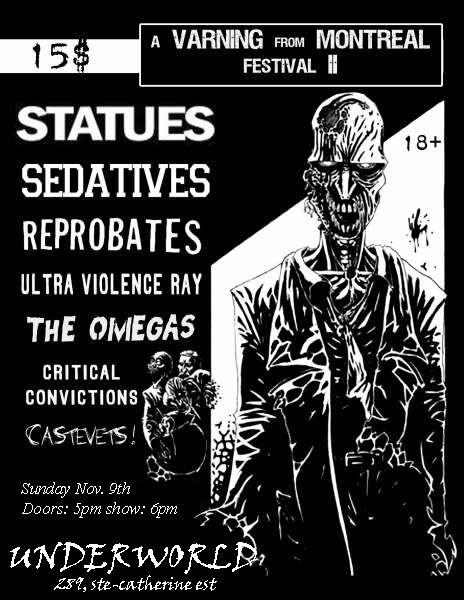 You also might have noticed the Omegas demo for sale on the website. Remember tapes? Please note, my cassette player is broken, so I can't vouche for whether or not Spoiler didn't just decide to put some Milli Vanilli tapes with some Omegas covers. You can download that nonsense for free still. But if you insist on dropping your hard earned cash on some troublemakers from Montreal, be my guest. It'll help us rent vans and buy beers and chocolate milks (for Spoiler) so we can roll into your town. Lastly, we have some t-shirts as well. Maybe those will show up on the site eventually. Speaking of the Omegas, we have around a million songs; all scientifically designed to promote convulsive slam-skanking. We'll record some more soon, and will keep you posted on upcoming records. Some stuff is in the works. Also, Omegas will be playing at the second annual Varning in Montreal fest this coming Sunday with a bunch of other good bands. I will not be there, having to head down south for a wedding. This will hardly stop the Omegas... who will be the surprise drummer? You'll have to go to find out.
Last but not least, word leaked out about the A7 reunion taking place at the Knitting Factory in early December organized by Guillotine and Complete Control productions. I'll post more information as it develops, but it will be an absolute trip. Lots of surprises. Direct yourself here for some preliminary information on the event. If the prospect of Urban Waste, Antidote, No Thanks, and a whole handful more is enough to pull out your wallets, direct yourself here to buy some tickets.
2008-10-24
Omegas demo
Back in April, the Omegas went on a trip to Toronto to play a show, hang out with our friend Mike the Mosher on his berfday, and record some songs with Jonah Goofcheese. The process was well documented over here, and it involved piling into a car, listening to True Mathematics, butchering an Outburst cover, Tony puking mythic proportions, crashing a party, passing out in a car, and along the way record a few songs. Four of the resulting songs are now the Omega's first demo, appropriately titled "Psycho Dives on Slam Skank Anthems". There was talk about doing a 7", but instead we decided what we really needed was another guitarist. Enter Yanny, who now rocks the six strings as well. Then we wrote some more songs.
"Oops, we should really release those songs." They are now available as a demo. You can buy the demo from your local pawn shop (or from this very site in a few days), or why not just download it right here: OMEGAS DEMO. More songs to be recorded soon!
2008-10-16
MATW site updated
So we've finally updated the Mad at the World site and hope you enjoy the new design. This will be significantly easier to update, so this one will be kept a lot more current than our past site, so come back often. We're still building some of the site, including the individual band pages, so come back periodically for those. We've got ann archive's worth of material that we can put to use for the site, which we were never able to get up on the old one. There's also links to our growing webstore and the blog I've been maintaing for the past 2 years. Basically, I'd like to make the site much more of a resource than it's been previously. Now that we're in a much more work-able format, our ideas can finally come to fruition.
Our very next release will the Cheap Tragedies LP. Following up both of their 7"s released this summer, the LP artwork is just being finished up, while in the meantime the test presses have been approved. Pre-orders will be up on our webstore shortly. The first pressing will come in a gatefold sleeve; 300 copies on clear vinyl and 700 on black. The band will get a number of clear vinyl copies, along with a select group of stores (check back for the list once we've got this confirmed), and the rest will be for mailorder. The record will be one of the sickest you've heard so don't sleep on it! The band will be playing the Fest 7 in Gainesburg Florida on November 2nd, and a date in Syracuse on November 15th as well.